If you are struggling to get back to clean, it is possible what looks like dirt may be damage and may require some special attention.

So, lets check to determine whether you have an issue that will require special attention before ANY cleaner will be able to restore a "clean" appearance. Rest assured we have answers and can get you back to "cleanable."

If you see any of these situations give MARBLELIFE® a call and
we will guide you back to a "cleanable" surface.
In order to restore a CLEAN appearance to your Wood on must first ascertain whether there are any special situations requiring a specialty cleaner or service solution that is preventing you from achieving CLEAN. No cleaner can deliver clean if the surface is blocked or damaged.

Check to see if you are experiencing any of these situations. If so, good news there is a solution such that once addressed, you will once again have a CLEANABLE surface. We will look at SPECIAL SITUATIONS that can be addressed with a product first and then those that require a service visit.
SPECIAL SERVICE REQUIRED TO RESTORE A "CLEANABLE" SURFACE

Tile Floor
Before and After
Professional MARBLELIFE Service
Dull Spots Wax Build-Up
Dulling of countertop finish. This is generally uniform across the entire surface. Good News - This is addressable with a professional cleaning and a change in daily cleaner.
Learn More

Countertop dull spots
Are generally caused by repeated use of wax containing or gloss enhancing cleaner. Over time wax build-up traps dirt, defracts light as it thickens to block the natural light reflection under the polished surface beneath it.
A professional will need to remove the wax and address any polishing needs your particular surface may need to restore a cleanable surface at which point a wax-free cleaner is recommended based on surface type MARBLELIFE offers cleaners for MARBLE & TRAVERTINE, GRANITE & QUARTZ, TILE & GROUT, WOOD and CONCRETE & TERRAZZO
MARBLELIFE Products are designed to accomplish a single mission for the simple reason that chemistry is not smart. You cannot combine a sealer and cleaner and expect the product to seal first and then clean, or clean first and then seal. As a result products that claim to clean-and-shine or clean-and-seal by definition will trap dirts and deposit build-up overtime, which means eventually you are going to need a service such as MARBLELIFE to professionally restore your surface. OR you can utilize mission based products designed to do one thing very well.


Cleaners are designed to remove everything from the surface without depositing waxes or oils.
Polishes are designed to smooth the surface in order to better reflect light. These are not coatings designed to lay on the surface but being softer than stone wear and fail, but rather a polish seeks to smooth the hard stone surface for maximum longevity.
Sealers (penetrating) are designed to fill in grout pores to prevent dirt and stain from penetrating, but not to lay on the surface (topical).
Specialty Cleaners are designed to address special situations which exist once, until we address it, so you can return to a cleanable surface. So Maxout is designed to lift dirt and oils out of pores. Soap Scum is engineered specifically to cut through soap or burnt on grime to restore a soap and grime free surface to a cleanable one.
MARBLELIFE products therefore use no acids, no waxes or oil deposits.
Non-Damaging Cleaners
These products have been formulated to avoid damaging ingredients that can destroy or hide your CLEANABLE surface.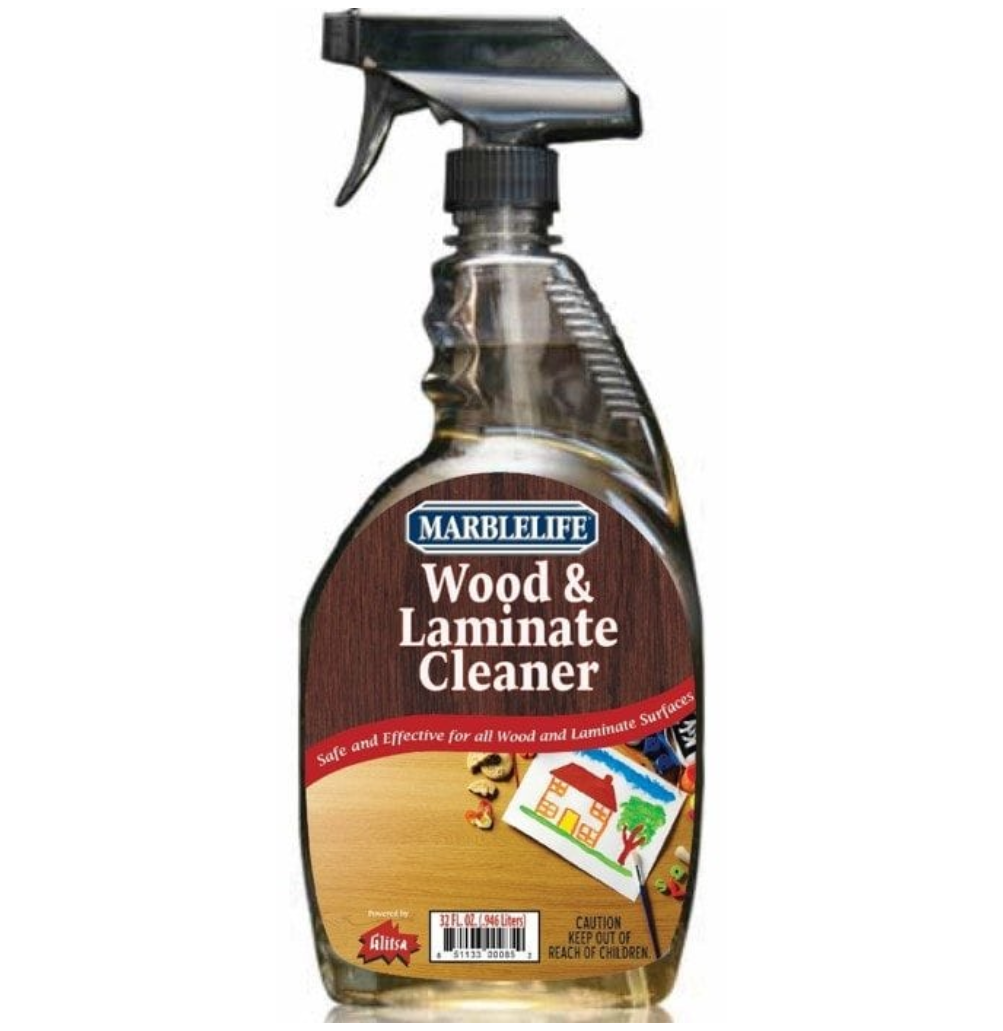 Wood & Laminate
MARBLELIFE Wood & Laminate Wood Cleaner are formulated for easy cleaning of dirt, oils and greases from your wood floor surfaces, without depositing misguided waxes. Eliminate the waxes and we reduce waxes tendency to capture dirt, to scuff and to create haze over time.

Buy this product!
Helpful Links: