SELECT THE IMAGE THAT THAT BEST MATCHES YOUR CLEANING FRUSTRATION SITUATION

Tile Floor
Before and After
Maxout
Stain Grout
Stained and dirty grout is a common problem. Virtually every grouted floor will eventually run into this problem, until they have been MARBLELIFE Colorsealed. This is characterized by a darkening of grout lines in high traffic areas, and can be observed as a difference between grout along walls, baseboards and walls versus high traffic floor areas. Good News - there is a specialty product solution that can take care of this for you.
Learn More

Grout is naturally porous, unless it has been properly sealed. This assumes the installer can tell whether they have applied enough material to fill the open pore, or just to get the surface wet.

Once sealed, one must be careful not to introduce acidic cleaners which are capable or reversing the seal chemistry and allowing the seal to be washed away with each cleaning.

As a result, most grout seals have or will fail. Once can either re-seal or shift to a non-acid sensitive solution such as MARBLELIFE-Colorseal.
Once stained, grout needs to be cleaned to remove embedded dirt and oils. However, cleaning a stained grout line is like trying to clean the bottom of a test-tube with a sponge, it is very difficult to get into those tight spaces. As such, one needs to powerwash or introduce a surfactant based cleaner to reduce water tension to allow the cleaner to penetrate and float out dirt and oils.

Once removed the grout may be clean, but is still open. As such one must re-seal in some fashion to prevent a re-occurrence. Today, powerwashing grout is a good repeat maintenance business but does the customer a dis-service as it fails to remedy the root cause – unsealed grout.
MARBLELIFE COLORSEAL was developed to enable our craftsman to apply a solution that would halt this problem once and for all. Engineered to be impervious to acids, even if one were to continue to introduce an acid cleaner after sealing with MARBLELIFE COLORSEAL the product would remain intact preventing dirt from penetrating the grout surface.
MARBLELIFE then went a step further enabling the product to be colored to match the existing grout color OR to a preferred new color. (Yes, we can change white to black and black to white or any other color you may desire). This allows the installer to ensure that all grout surfaces have been fully sealed, as the color will shadow in areas of high porosity enabling our installers to ascertain which areas need additional material. When complete, a MARBLELIFE COLORSEAL floor will be better-than-new, with superior color uniformity, and an acid resistant seal that can stand-up to future cleaning – even it is with an acidic cleaner.
CLEANERS: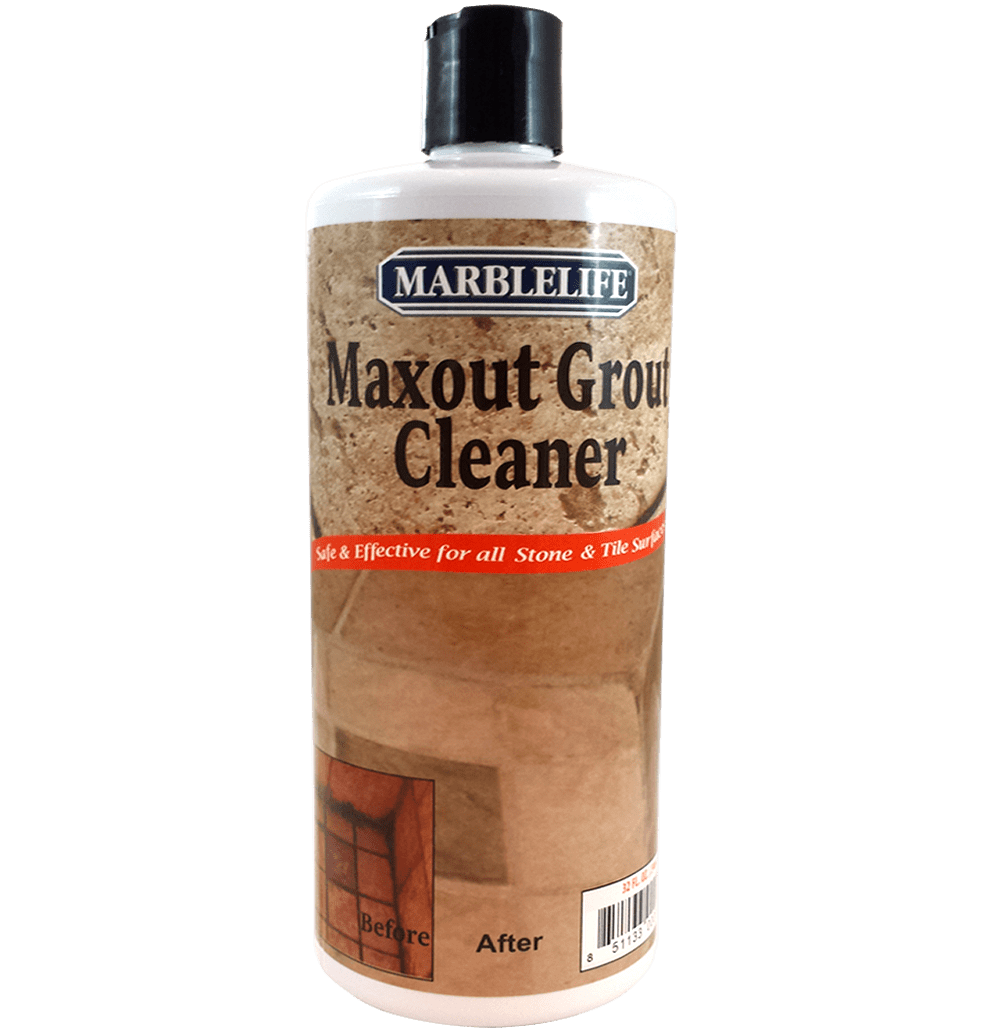 MARBLELIFE MAXOUT CLEANER – PRE-MARBLELIFE COLORSEAL SERVICE CLEANER
Is formulated reduce water's natural water tension to enable it to more easily enter grout pores and float out the dirt and oils that have penetrated. So effective that one can see the cleaner turn dark as it pulls up oils and dirt. Once done one can actually see sand crystals in sanded grout glint back. This is an effective pre-treatment prior to applying MARBLELIFE COLORSEAL.
Buy this product!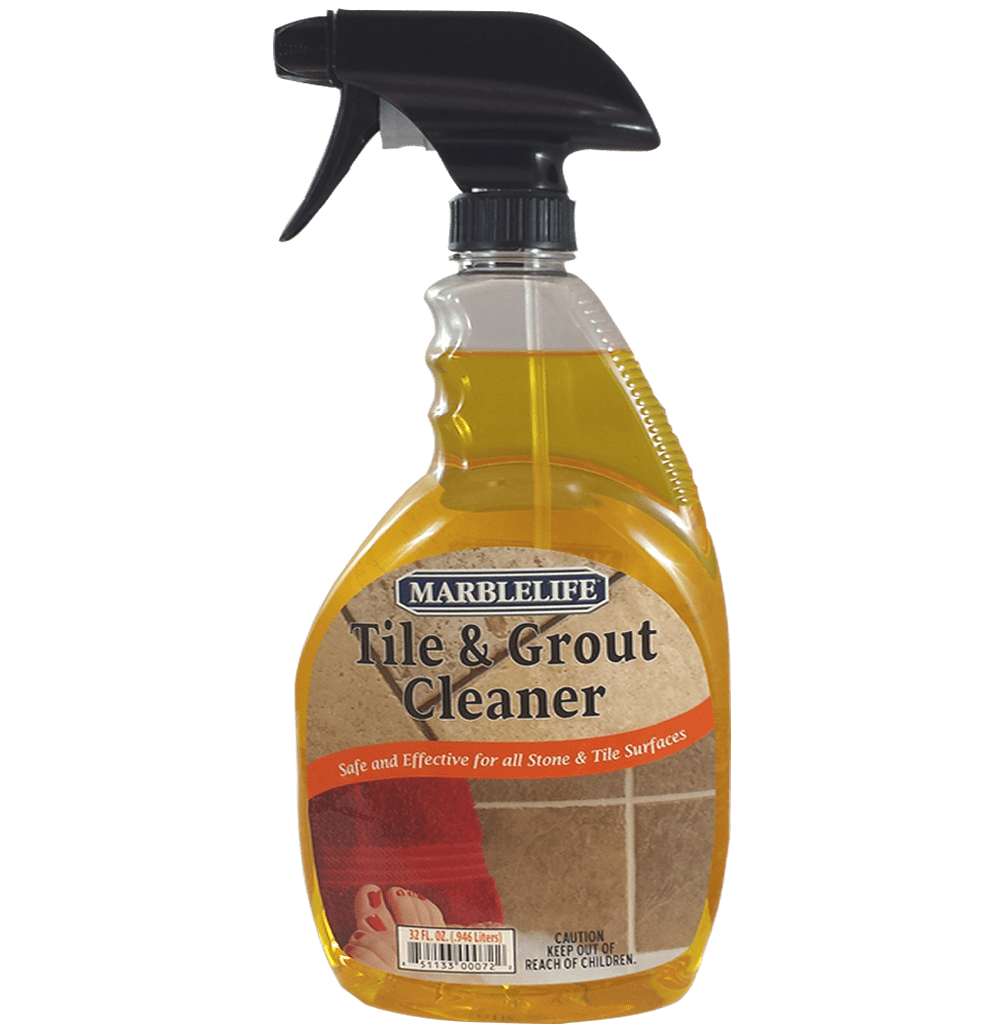 MARBLELIFE TILE & GROUT CLEANER – EVERYDAY MAINTENANCE CLEANER
Once properly sealed any dirt or oil is forced to remain on the surface where it can easily be removed with MARBLELIFE TILE & GROUT CLEANER which is formulate to emulsify oils, greases, and fats that serve to help stick dirt to your floor and surfaces. This is a superior cleaner formulated to clean without acids and without depositing any oils or waxes which can result in grout damage and staining.

Once MARBLELIFE COLORSEALED your floor is not just CLEANABLE again, but easily cleaned with MARBLELIFE TILE & GROUT CLEANER.

For larger areas consider MARBLELIFE FLOOR CLEANER which comes in a concentrate gallon capable of making 32 gallons of cleaner.

Buy this product!

Shower
Before and After
Mold and Mildew Remover
Red or Black Mold & Mildew stains
Mold spores are ever present, however they need a damp and preferably dark area with access to organic material to settle and grow. The stain observed is not the fungi itself but its waste product, still can be difficult to remove. Good News - there is a specialty product solution that can take care of this for you.
Learn More
Red or Black Mold & Mildew stains

Mold spores are ever present, however they need a damp and preferably dark area with access to organic material to settle and grow. The stain observed is not the fungi itself but its waste product, still can be difficult to remove
Change the environment to improve drying or airflow can halt the re-appearance once cleaned and removed.
If mold is present remove mold and mildew stains with ease and without risk of damage to your surfaces with MARBLELIFE MOLD & MILDEW STAIN REMOVER
CLEANERS: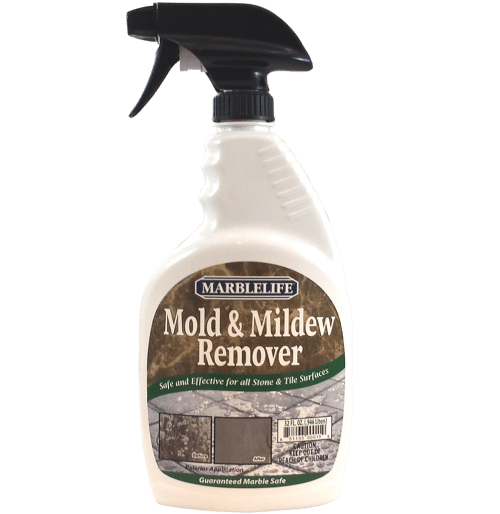 Mold & Mildew Cleaner 2x (2x Retail Strength)
Power through mold and mildew stains to restore a blemish free surface without damaging tile, grout or grout seal.

Buy this product!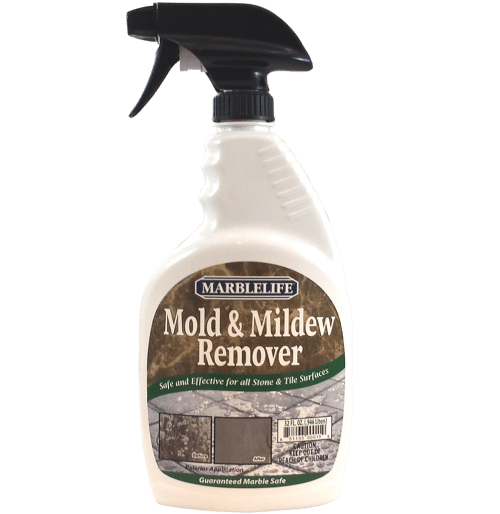 Mold & Mildew Cleaner 6x (Professional Strength)
Power up the effort with the strongest cleaner on the market. Dilute it back as a concentrate or use as is to power through mold and mildew. Excellent for use in showers, driveway and patios.

Buy this product!

Glass Shower Door
Before and After
Soap Scum Remover
White Soap Scum
The chemicals that hold your soap together also help it to stick to your shower and tub walls and floor. White and soft in color. VERY difficult to remove by hand. Good News - there is a specialty product solution that can take care of this for you.
Learn More

The chemicals that hold your soap together also help it to stick to your shower and tub walls and floor. White and soft in color. VERY difficult to remove by hand.
The easiest way to remove is with a mild abrasive, however this can result in damage to the underlying surface. As such, MARBLELIFE developed an abrasive designed to be harder than soap but softer than the surface we are cleaning so it crumbles on contact.
MARBLELIFE Soap Scum Remover is both the solution and the cleaner. Once free-of-soap maintain using the appropriate surface MARBLELIFE cleaner.
CLEANERS: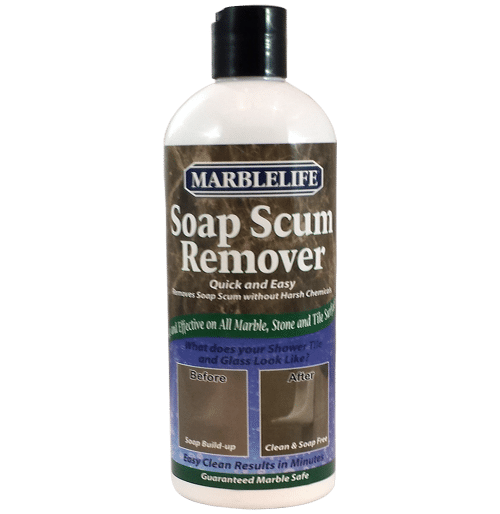 Soap & Scum Remover
If you have a soap dish, you likely have soap scum. Soap Scum Remover is engineered to cut through soap without damaging tile to rapidly remove soap scum problems and restore a soap free surface. Actually fun to use. You can feel and hear when you are once again soap-free.

Buy this product!
SPECIAL SERVICE REQUIRED TO RESTORE A "CLEANABLE" SURFACE

Water Fountain
Before and After
Professional MARBLELIFE Service
White Hard Water
White in color these are often shaped like water droplets on glass, however if allowed to go unaddressed will expand to form a crusty mass on the surface as seen in this example where the calcium has formed a blanket of white chalky build-up. Good news, this can be addressed.
Learn More

White in color these are often shaped like water droplets on glass.
Created when "hard" calcium rich water is allowed to evaporate. These hard deposits require different treatments depending on the surface. Acids will dissolve them but will also dissolve marble, limestone and travertine making this an in appropriate removal process.
On Calcium based surfaces such as Marble, Limestone or Travertine – you will want a professional to remove without damaging the surface. On granite, metal or glass use lemon juice.
Dirty Grout Stains
Dulling of countertop finish. This is generally uniform across the entire surface. Good News - This is addressable with a professional cleaning and a change in daily cleaner.
Learn More
Stained dirty grout that may lighten but never seems to return to that consistent uniform clean appearance
Grout seals can be damaged by acidic cleaner or spills. Once removed the grout is very porous and will absorb dirt even as it is being cleaned.
This will require a professional as the surface will require a deep powerwash or steam cleaning to remove embedded dirt, followed by a fresh seal being applied to keep dirt on top where you can clean it. MARBLELIFE COLORSEAL can also restore a uniform clean grout appearance, while eliminating future acid sensitivity.

Tile Floor
Before and After
Professional MARBLELIFE Service
Dull Spots Wax Build-Up
Dulling of countertop finish. This is generally uniform across the entire surface. Good News - This is addressable with a professional cleaning and a change in daily cleaner.
Learn More

Countertop dull spots
Are generally caused by repeated use of wax containing or gloss enhancing cleaner. Over time wax build-up traps dirt, defracts light as it thickens to block the natural light reflection under the polished surface beneath it.
A professional will need to remove the wax and address any polishing needs your particular surface may need to restore a cleanable surface at which point a wax-free cleaner is recommended based on surface type MARBLELIFE offers cleaners for MARBLE & TRAVERTINE, GRANITE & QUARTZ, TILE & GROUT, WOOD and CONCRETE & TERRAZZO

Tilelok applaction
Before and After
Professional MARBLELIFE Service
Dull spots (wear)
Ceramic tile may be hard but over time it will wear, and when it does it creates a dull dirty appearing finish. Once damaged no cleaner will restore a cleanable surface until addressed. GOOD NEWS! We can re-glaze your tile surface to restore its original appearance, and even enhance cleanability and anti-slip performance.
Learn More

Generally this is caused by micro-scratches and scratches worn into the tile surface that prevent it from reflecting light uniformly and properly, and serving as areas to capture and hold onto dirt, making the surface difficult to maintain in a cleanable manner.

This condition is often accompanied by stained grout that is also proving difficult to maintain or clean.
Restore or Replace the Tile. Historically, one has been told its time to replace the tile, or begin to wax the surface, creating a whole new set of potential problems and frustrations.

MARBLELIFE can restore these surfaces, and even update your finish to a clean, cleanable, uniform gloss appearance that requires no waxing and behaves like an original tile, but with superior anti-slip and anti-mold performance.
MARBLELIFE TileLoktm is typically combined with MARBLELIFE COLORSEAL to provide a better-than-new easy to maintain cleanable tile and grout surface.

TileLok serves to re-glaze the ceramic surface filling in scratches and wear marks, and can even be used to upgrade a matte or semi-gloss finish to a gloss finish. The new finish is durable, scratch resistant, mold-resistant, and provides an anti-slip coefficient of friction centered within the Veteran Administrations recommended optimal range for a beautiful, cleanable, enhanced tile surface, without the cost, dust or loss-of-use of replacement and can be done in hours versus days.

MARBLEIFE COLORSEAL – addresses your grout by upgrading its seal to an acid-resistant colorable seal capable of restoring better color consistency than when the grout was originally put in with the added benefits of being resistant to acid attack consistenly cleanable grout line even if you do bring an acid cleaner onto the surface later.

IMAGES – Shriners Hospital Red Tile Before & Afters

Granite Floor
Before and After
Professional MARBLELIFE Service
Slippery
Floor is slippery when walking across it.
Learn More

Slip requires the presence of a moveable material in the form of oil or dust, on top of a surface that lacks sufficient roughness to resist movement.
Contrary to popular notions – a shiny surface is not necessarily slippery. That said, it is true that generally a smooth surface has a smaller coefficient of friction making it easier to slip when dust or water are present or introduced. That said, different materials have different coefficient of frictions as such the application of wax to a surface will often reduce its coefficient of friction making to more slippery. Similarly the introduction of oils to enhance gloss appearance will result in a more slippery surface.

Similarly, one can slip on what is considered a rough surface – A car traveling at speed can hydroplane on a road when the surface is wet. The water is the moveable media in this case.

As such, one can reducing slip by maintaining a dry, dust free-surface, by removing waxes, and resisting the use of oils to enhance appearance in preference to managing the surface characteristics directly.
Solutions will vary based on the particulars of your situation including surface type, surface modifications, cleaning strategies, sealing conditions and the presence of wax.

Change in floor finish, topical coatings or the introduction of non-skid media in the form of a coating or tape may all contribute to reduction, but are not suitable in all conditions.

It is recommended that you have a professional craftsman review the particulars of your situation to ascertain specific recommendations.

Products
When it comes to cleaning floors in a manner to reduce the incidence of slip it is generally safe to say that the most important consideration is establishing a frequency based on the expected introduction of dust and water to the surface. The frequency needed can be modified through the use of appropriate matting, selecting mats based on what is needed most and may require use of multiple types to address debris versus water.

Surface modifications should avoid the use of waxes which can modify coefficient of slip to be too high as well as too low.

Surface finishes can be a factor by increasing roughness of the surface.

There are no universal recommendations here as one needs to formulate a strategy consistent with one's use and surroundings.
If you are struggling to get back to clean, it is possible what looks like dirt may be damage and may require some special attention.

So, lets check to determine whether you have an issue that will require special attention before ANY cleaner will be able to restore a "clean" appearance. Rest assured we have answers and can get you back to "cleanable."

If you see any of these situations give MARBLELIFE® a call and
we will guide you back to a "cleanable" surface.
In order to restore a CLEAN appearance to your Ceramic on must first ascertain whether there are any special situations requiring a specialty cleaner or service solution that is preventing you from achieving CLEAN. No cleaner can deliver clean if the surface is blocked or damaged.

Check to see if you are experiencing any of these situations. If so, good news there is a solution such that once addressed, you will once again have a CLEANABLE surface. We will look at SPECIAL SITUATIONS that can be addressed with a product first and then those that require a service visit.
MARBLELIFE Products are designed to accomplish a single mission for the simple reason that chemistry is not smart. You cannot combine a sealer and cleaner and expect the product to seal first and then clean, or clean first and then seal. As a result products that claim to clean-and-shine or clean-and-seal by definition will trap dirts and deposit build-up overtime, which means eventually you are going to need a service such as MARBLELIFE to professionally restore your surface. OR you can utilize mission based products designed to do one thing very well.


Cleaners are designed to remove everything from the surface without depositing waxes or oils.
Polishes are designed to smooth the surface in order to better reflect light. These are not coatings designed to lay on the surface but being softer than stone wear and fail, but rather a polish seeks to smooth the hard stone surface for maximum longevity.
Sealers (penetrating) are designed to fill in grout pores to prevent dirt and stain from penetrating, but not to lay on the surface (topical).
Specialty Cleaners are designed to address special situations which exist once, until we address it, so you can return to a cleanable surface. So Maxout is designed to lift dirt and oils out of pores. Soap Scum is engineered specifically to cut through soap or burnt on grime to restore a soap and grime free surface to a cleanable one.
MARBLELIFE products therefore use no acids, no waxes or oil deposits.
Protect against grout staining
Once restored back to new we now have to take steps to prevent any new damage or staining with the following recommendations for your surface.
These elements need to be applied to protect surface from future damage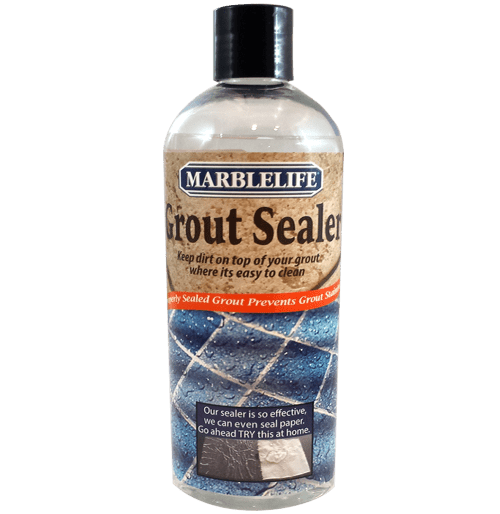 MARBLELIFE® Grout Sealer
Seal Grout Now – Or Suffer the Ugly Stains Later

Buy this product!
Non-Damaging Cleaners
These products have been formulated to avoid damaging ingredients that can destroy or hide your CLEANABLE surface.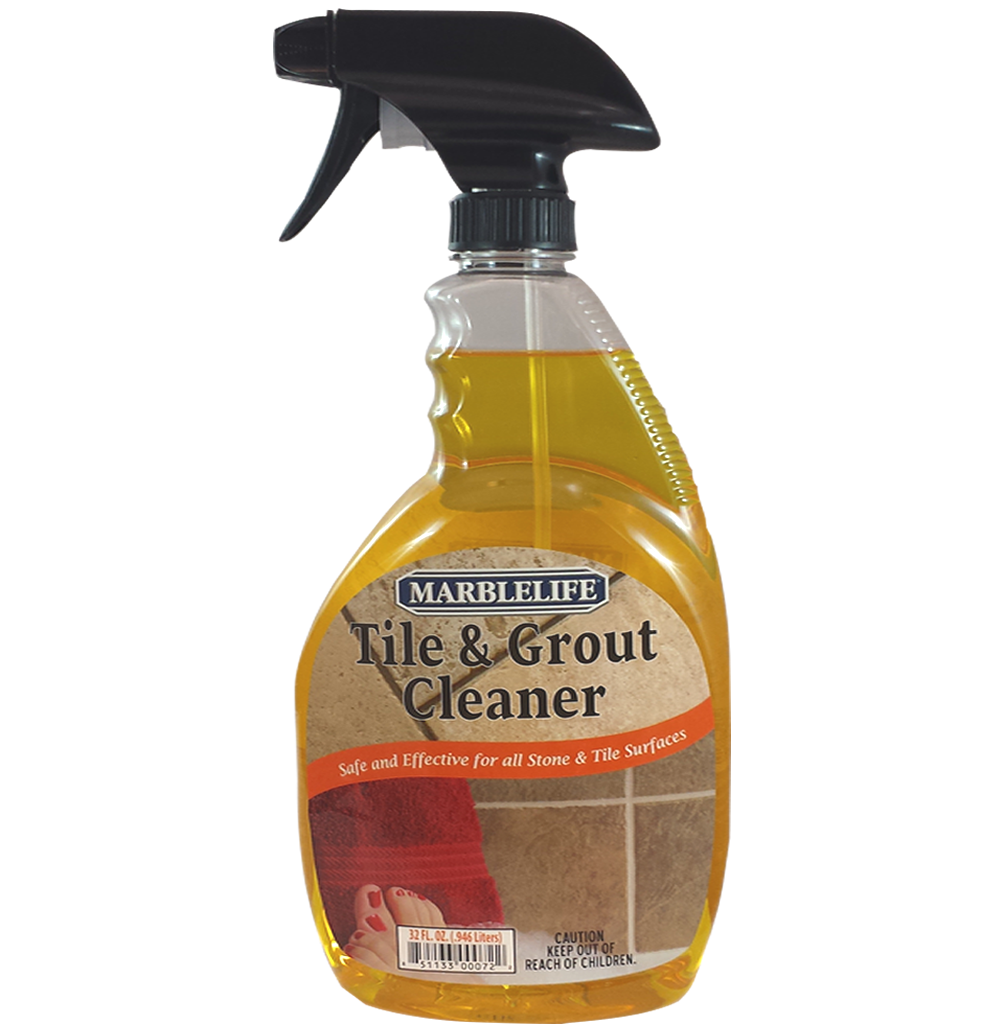 Tile & Grout Cleaner
Non-Acidic Surfactant based tile cleaner emulsifies dirt and oil without damaging grout seals for a quick easy pure clean free of waxes and oils.

Buy this product!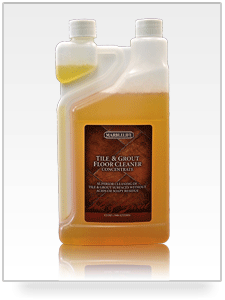 MARBLELIFE® Tile & Grout Floor Cleaner
Marblelife Tile & Grout Cleaner – Countertop & Floor Cleaners
Cleans Beautifully While Saving You 80% Over Ready-To-Use

Buy this product!
Helpful Links: